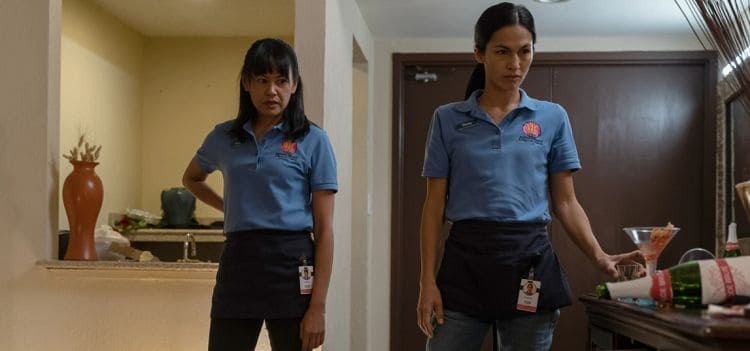 On The Cleaning Lady Season 1, Episode 8 Luca finally received the liver transplant he desperately needed to stay alive and receive treatment for his autoimmune disease. All thanks to his strong mama Thony who on went full-on gangsta to prevent the crooked surgeon in Mexico from postponing his surgery for a higher bidder. Hayak found out about Arman's deception. Hayak attempted to have Arman and his wife killed by blowing up their home. Thony was faced with one last major obstacle in Luca's health journey on The Cleaning Lady Season 1, Episode 9. That was crossing the border and getting back to safety in the States. Arman and Nadia were forced into hiding after Hayak tried to kill them. Since Arman was trying to stay off the radar, there was no way he could pick Thony, Luca, and Daria in his private plane as originally planned. But as always, Arman always finds a way to help Thony, so he arranged for them to pick up fake passports to cross the border.
Crossing the border as an illegal immigrant was nearly impossible in Mexico and so many things went wrong. The border patrol agent could tell that Thony's passport was fake and turned her away. Thony came up with the perfect rescue plan in the event that she didn't make it through. As always her primary concern was Luca. Since Daria was a U.S. citizen, she knew that the border patrol agents wouldn't question Luca's phony passport. Explaining to Luca why he had to pretend Daria was his mommy was difficult for Thony. It was much harder to walk away as Luca screamed for her.
Stuck in Mexico, Thony reached out to the only other person that could help her- Garrett. Garrett definitely isn't a fan favorite but we all know that the only chance he has of nailing Arman is by keeping Thony on as an informant. Believe it or not,  Garrett has developed somewhat of a soft spot for Thony. So it wasn't a surprise when he wasted no time in coming to Thony's aid even though his boss didn't agree to help him get her back across state lines.
Thony was desperate to get back home to Luca and she wasn't willing to wait not a moment longer for Garrett to convince the bureau to help. They made a plan to hide Thony deep inside his trunk and cross the border. We knew this was a horrible plan the moment it came out of Thony's mouth and surprisingly Garrett went along it. Even Garrett flashing his badge at the border control didn't stop the agents from arresting them when they found Thony hidden in the trunk.
The FBI ended up coming to their alright. Garrett blew his case. Thony was officially arrested for aiding and abetting Arman in the commission of a crime and illegally trying to enter the country.  Garrett ended up getting kicked off the case and was facing further disciplinary action.
Fiona's story is typically overshadowed by Thony's plight to save Luca. After the ICE scare, Chris learned to value his mother and found a way to help instead. He found out that the DACA attorney she had hired to help get his green card was a fraud and he was overcharging for free services. Unfortunately, immigration lawyers take advantage of vulnerable immigrants all the time playing on their desperation to become citizens.  Chris and Fiona made a great mother and son duo as they stormed into the lawyer's office and backed him into a corner where he had no choice but to return the thousands of dollars she had given him.
Fiona has also had her hands filled with talking both Thony and her brother Marco down of the ledge in their marriage. Now she sees her brother's true colors. He doesn't respect his sister or his wife and he's incredibly selfish. Meanwhile, Arman was plotting how he could save him and Nadia's life. Hayak likely knew that the hit he put out on them was unsuccessful. Arman refused to live the rest of their life running. He bought himself more time by confronting Hayak about the gun deal and pretending like the attack on his life was done by a rival organization. Although Hayak still has his suspicious Arman plan worked brilliantly.
Nadia on the other hand was pissed. She's a fierce woman that's more than just a beautiful face. She knows what she wants and she believes that Thony is in the way of her and Arman getting the type of future she wants.
link