COLUMBIA — Robert Bolchoz's first hint that he might be outmatched in the 2010 S.C. attorney general's race came just weeks after it began.
The 46-year-old former prosecutor was still trying to get his campaign off the ground as he steered his pickup toward a GOP meeting in Camden. Yet a sea of red, white and blue "Alan Wilson for Attorney General" yard signs greeted Bolchoz for a full block before he even reached the building.
Inside, the scene was even more discouraging. Wilson, then a 36-year-old congressman's son and one of Bolchoz's two Republican opponents, hardly looked like a first-time political candidate as he worked the room, hitting it off with voters and passing out cards with a team of volunteers. Later on in the season, Bolchoz would find himself accepting fundraising advice from his younger opponent.
Bolchoz, who later endorsed Wilson and worked in his office, was left in awe of the future attorney general's hustle.
"He outworked me on the campaign," Bolchoz said in a recent interview. "I'll be the first to admit it. He was just everywhere, all the time. He never missed an event."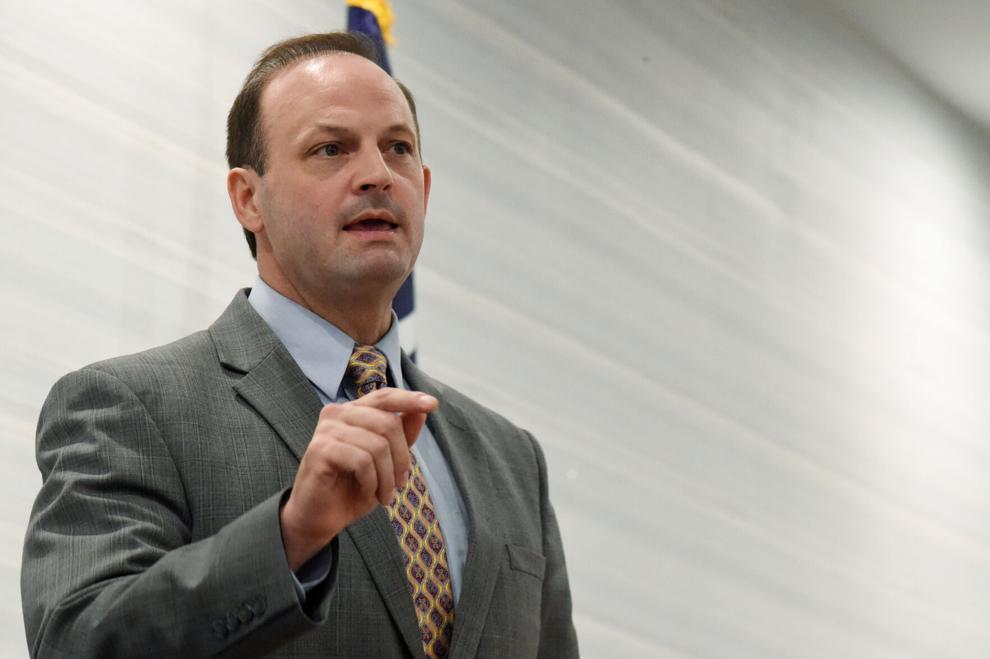 A dozen years later, Wilson's drive hasn't waned as he seeks a fourth term as attorney general — a job many S.C. political observers assumed he would have vacated by now on the road to Congress or the Governor's Mansion.
An affable Eagle Scout and father of two, Wilson, 48, is still a frequent face at Republican groups, civic gatherings and festivals across the state. But he's no longer the political newcomer whose 2010 election made him the nation's youngest attorney general.
Three terms in office have seen his political stock rise, plummet and rebound again as he etched his political resume with controversies and conservative credentials alike. In 12 years as South Carolina's top lawyer, he has made a habit of suing the federal government, pushed state legislators to enact stronger laws against domestic violence and human trafficking, brought charges against hundreds of child predators, and won hundreds of millions of dollars in settlements against companies that harmed South Carolina consumers.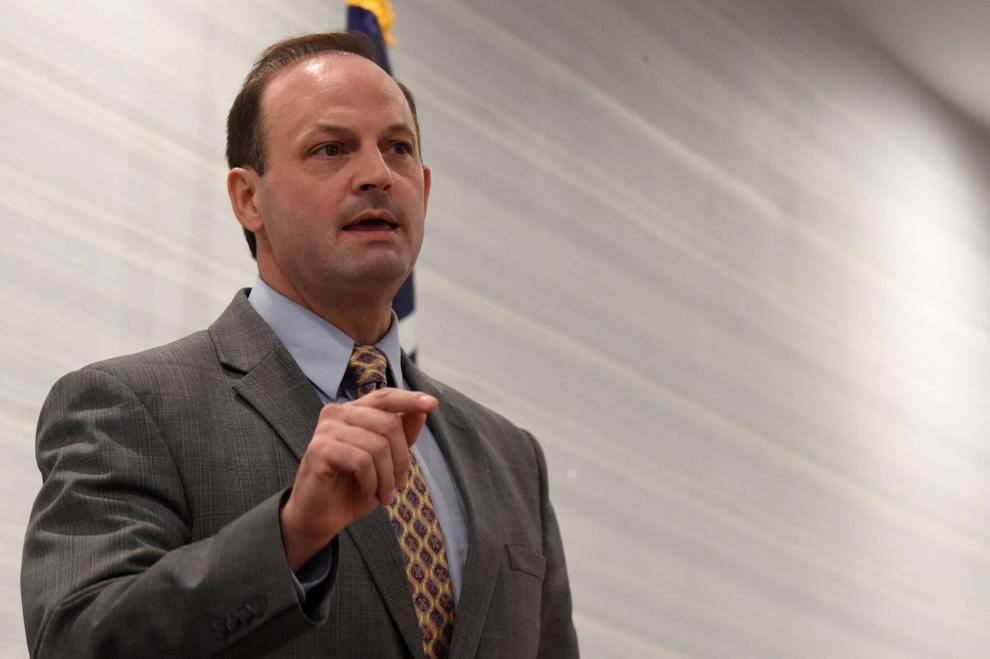 He won plaudits for launching criminal probes that brought down a lieutenant governor and the S.C. House speaker, but he then invited scorn by trying to wrestle away control of a Statehouse corruption investigation as it began to target his political allies.
Conservatives applaud Wilson's defense of Second Amendment rights and the unborn, his decision to join national lawsuits that successfully blocked Democratic President Joe Biden's coronavirus vaccine mandates in court, and his promotion of public safety and the rule of law.
But critics say Wilson is a hardcore partisan and a sucker for lost causes, like his unsuccessful, years-long effort to defend the state's gay marriage ban, who steers his office's lucrative legal work to friends and political allies.
Regardless, hardly anyone expects Wilson to change as he seeks a fourth term that would make him one of the longest-serving attorneys general in state history.
He will almost certainly cruise to re-election this year. He enjoys a 30-to-1 fundraising advantage over his little-known GOP challenger, Bluffton attorney Lauren Martel, in the June 14 primary. No Democrat filed to run against him in the November general election.
Ahead of the primary, The Post and Courier explored Wilson's record and interviewed him along with more than two dozen supporters, foes, political observers and fellow lawyers to take stock of the incumbent's political standing and where his path might lead.
A natural
If politics comes naturally to Wilson, it's likely the result of a childhood spent tagging along with his adopted congressman father, U.S. Rep. Joe Wilson, R-Springdale, at Rotary Club meetings, military programs, community festivals and campaign stops.
Wilson grew up in a household that stressed faith, family and service above all else. He followed his father into the S.C. Army National Guard and deployed to Iraq for 13 months in the mid-2000s. There, he led convoys through sniper fire and explosive devices as an intelligence officer.
After graduating from the University of South Carolina's law school, he prosecuted violent crime in Lexington County and then in the Attorney General's Office before going into private practice for the high-powered Willoughby and Hoefer law firm in Columbia.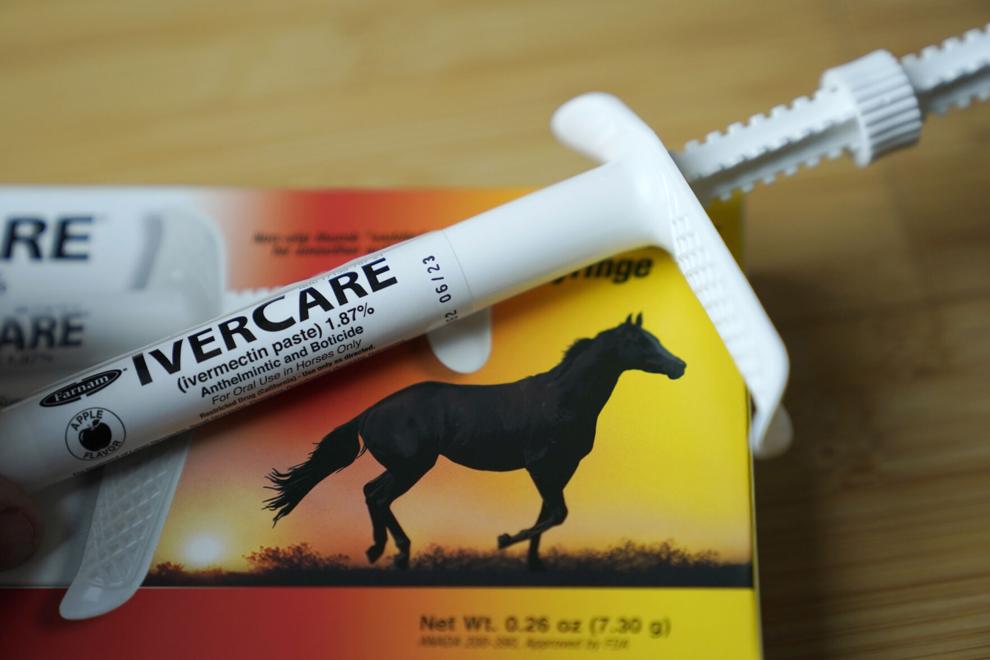 As an assistant attorney general, Wilson once prosecuted a predator who had sexually abused a minor for years. When the man was sentenced to nearly two decades behind bars, the young woman told Wilson she felt like a survivor — not just a victim — for the first time.
"That was a real lightning bolt to me," Wilson said. "I played a real role in changing someone's life for the better."
Running for attorney general when the job opened up in 2010, he later reasoned, would give him a platform to do that on a larger scale.
Wilson certainly benefited from his father's political stature and connections when he announced his run for office. But he also ran his 2010 campaign like he was eager to step out of Joe Wilson's shadow, supporters recall.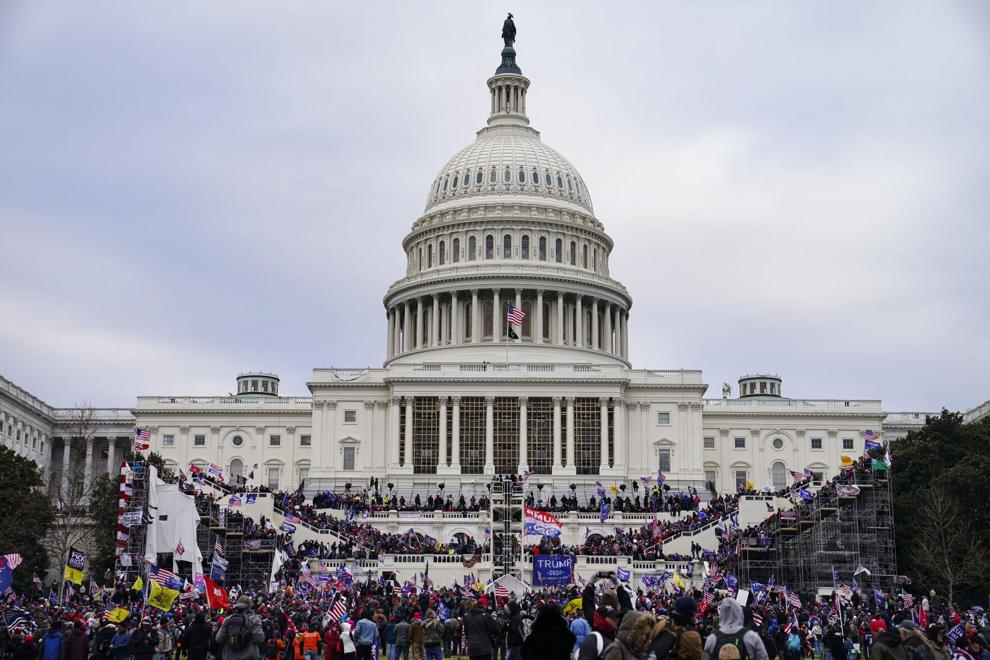 "Where two or more Republicans were gathered, Alan was there," said Thad Westbook, a longtime Wilson confidant and political advisor. "He really worked the grassroots."
Wilson fended off Bolchoz and Columbia attorney Leighton Lord in a hard-fought Republican primary that featured questions about his lack of legal experience and an anonymous TV ad that mocked Wilson as a congressman's son who flunked the Bar exam on his first try (he did). He beat Matthew Richardson in the general election despite the Democratic trial attorney's insinuations Wilson wouldn't be tough on government misconduct or corrupt politicians.
Wilson took charge of an office of nearly 200. His political career was off and running.
No off button
Fueled by 5-Hour Energy shots and an obsession for the work, Wilson has kept up that frenetic pace as attorney general.
Friends marvel at how he juggles the job alongside family responsibilities, speaking engagements all over the state, National Guard service and leadership roles within the Republican Attorneys General Association, where he now sits as chairman. A Star Wars and Marvel nerd, he still makes time to binge-watch new movies and shows with his son on Saturdays.
He often arrives at the office before his employees and clocks out after them. He hasn't had a drink of alcohol in more than a decade, in part so he can be available at all hours in case a law enforcement agency needs him.
"You always want to be on your game," Wilson said. "You don't want to be compromised. You'll never write a story about Alan Wilson getting a DUI."
He's known to call senior staff into his office as he weighs important decisions, peppering them with questions and probing every possible angle before him.
"Alan does not have an off button," said former aide Adam Piper. "It is on 24-7."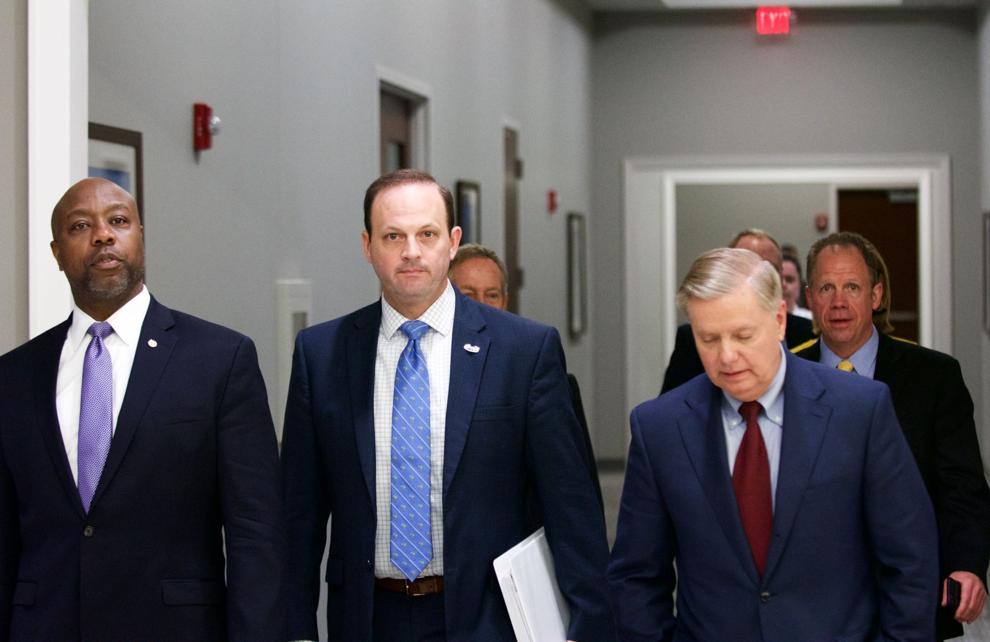 Soon after his 2010 election to the $92,007-a-year job, he followed through on a campaign promise to challenge the Affordable Care Act, among the first of more than 50 legal actions he would file or join against President Barack Obama's administration.
He established a task force that investigates internet crimes against children and has since arrested hundreds of alleged predators.
He made waves in his first term by launching ethics investigations that ousted two powerful members of his own party — then-Lt. Gov. Ken Ard, R-Florence, and former S.C. House Speaker Bobby Harrell, R-Charleston.
He proved adept at navigating the General Assembly, leveraging his relationships with legislators to successfully push for stronger laws against drunken driving, sex trafficking and domestic violence. He worked to bring services for crime victims, long split up among several agencies, under one roof in his office.
"He's using his bully pulpit to really push crime victims to the forefront," said Laura Hudson, executive director of the S.C. Victim Assistance Network.
Pascoe problems
Wilson's political rise was meteoric, sparking talk of a run for governor when Nikki Haley's second term ended in 2018.
But Wilson's stock took a tumble amid a 2016 feud with First Circuit Solicitor David Pascoe over control of the Statehouse corruption probe that ensnared Harrell.
Pascoe, a Democrat whom Wilson had assigned the case, sought to expand the investigation to target alleged corruption by several Republican legislators and toward Richard Quinn, Wilson's political consultant. Wilson tried to fire Pascoe and alleged in a bizarre press conference that the local prosecutor was tainted and couldn't be trusted to handle the case any further.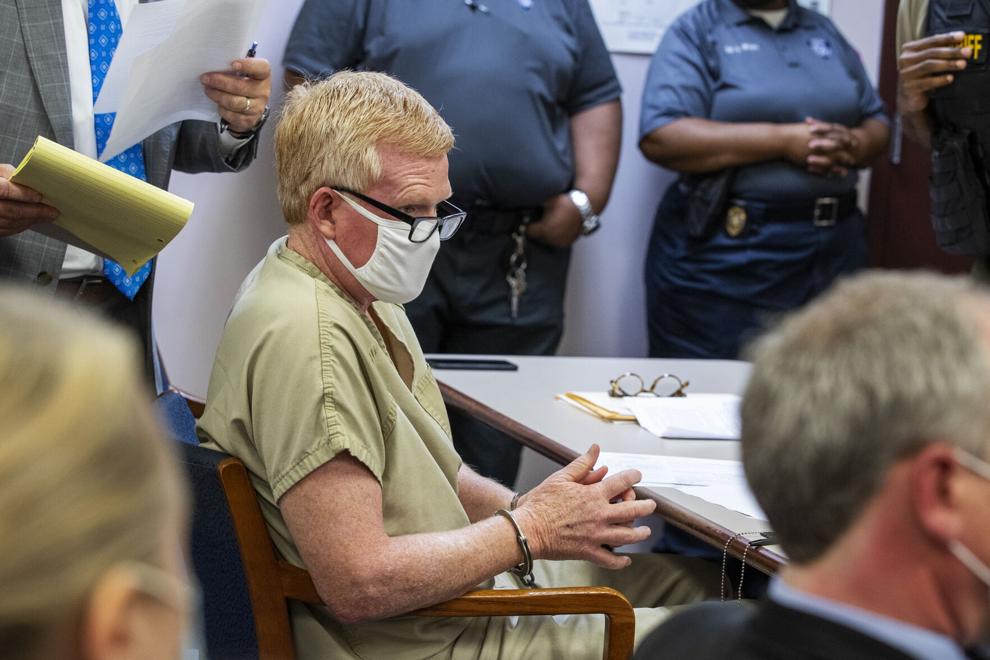 News reports detailed how Wilson had consulted with Quinn before seeking to remove Pascoe from the case years earlier and how a Wilson aide had tried to launch a political smear campaign against the Democratic prosecutor.
The fight went to the state Supreme Court, which ruled in Pascoe's favor and let him keep the case. The probe netted convictions and resignations from several top Republicans, alleging Quinn and the legislators he advised ran a "pay-for-influence" scheme at the Statehouse.
The grand jury would ultimately issue a report alleging Wilson tried to halt the investigation into his political allies and "put his loyalty to Richard Quinn above his duty and obligation to the citizens of South Carolina." Wilson dismissed the report as "repackaged and recycled garbage."
Wilson said recently he regrets holding the press conference in which he appeared combative and verbally sparred with a reporter. If he had to do it all over again, he said, he would have let his legal filings speak for themselves.
"I never did anything wrong," Wilson said. "I never did anything unethical. But the way you portray yourself publicly. Sometimes you try to do the right thing, and you do it the wrong way."
Still, the yearslong investigation hung a cloud over Wilson, prompting speculation he could even face charges. Wilson's pathway to the Governor's Mansion narrowed. It evaporated entirely when fellow Republican Henry McMaster ascended to the position in January 2017 upon Haley's resignation to become U.S. ambassador to the United Nations.
Wilson instead sought and won a third term as attorney general, shrugging off a pair of GOP primary challengers who hoped his Quinn ties would leave a bad taste in voters' mouths.
So far, that hasn't proven the case.
"That type of campaigning — and those types of stories — just didn't really resonate with the electorate," Westbrook said. "Particularly in the Republican primary, those voters are most worried about the rule of law. A lot of the things happening in D.C. overshadow what's happening locally."
A 'committed conservative'
Wilson has weathered the storm by playing to his base of conservatives.
But that approach has drawn criticism, mainly from Democrats, that Wilson has over-politicized the attorney general's office by running headlong into sometimes-Quixotic fights over GOP red-meat issues like immigration, gay marriage, abortion and gun rights.
His campaign sometimes blasts out emails to supporters soliciting political donations after Wilson issues a legal opinion or joins a lawsuit.
"A gift of $50, $100, $250, or more will help me push back the radical left as they try to gain a foothold in our state and fight for freedom around the country," Wilson wrote in a fundraising email last August, weeks after he joined a 26-state challenge of New York's restrictive concealed-carry gun law.
"That is somewhere between awkward and overtly partisan to be using the fact that you did something on behalf of the public to then say 'so you've got to support me,' " said Senate Minority Leader Brad Hutto, a trial attorney and Orangeburg Democrat. "The point of being attorney general is to be attorney general, not to raise money."
Critics say Wilson is not above partisan stunts like supporting the lawsuit that unsuccessfully sought to challenge Biden's victory in the 2020 presidential election or grabbing lunch last December with Kyle Rittenhouse, the teenager whose fatal shooting of two people at an August 2020 police brutality protest in Wisconsin divided the nation. The lunch at a barbecue restaurant came three weeks after a jury acquitted Rittenhouse on all criminal charges in connection with the shooting.
State Sen. Dick Harpootlian, a Columbia Democrat and former state solicitor, said Wilson is wasting staff resources fighting culture wars when he could be helping the state's 16 circuit solicitors clear their massive case backlogs.
"Every other day, there's a press release about some lawsuit he's joining," Harpootlian said. "That's tying up staff to play politics. You can't prosecute by press conference."
Wilson countered that his involvement in the 2020 election lawsuit was narrowly challenging a Pennsylvania court's authority to rewrite voting rules amid the coronavirus pandemic, not alleging there was any election fraud.
He said he met with Rittenhouse and his lawyer to discuss an issue involving a South Carolina-based group that was purportedly raising money for the teenager's legal defense. He said he didn't publicize the meeting and was surprised when a reporter spotted them in downtown Columbia and broke the story.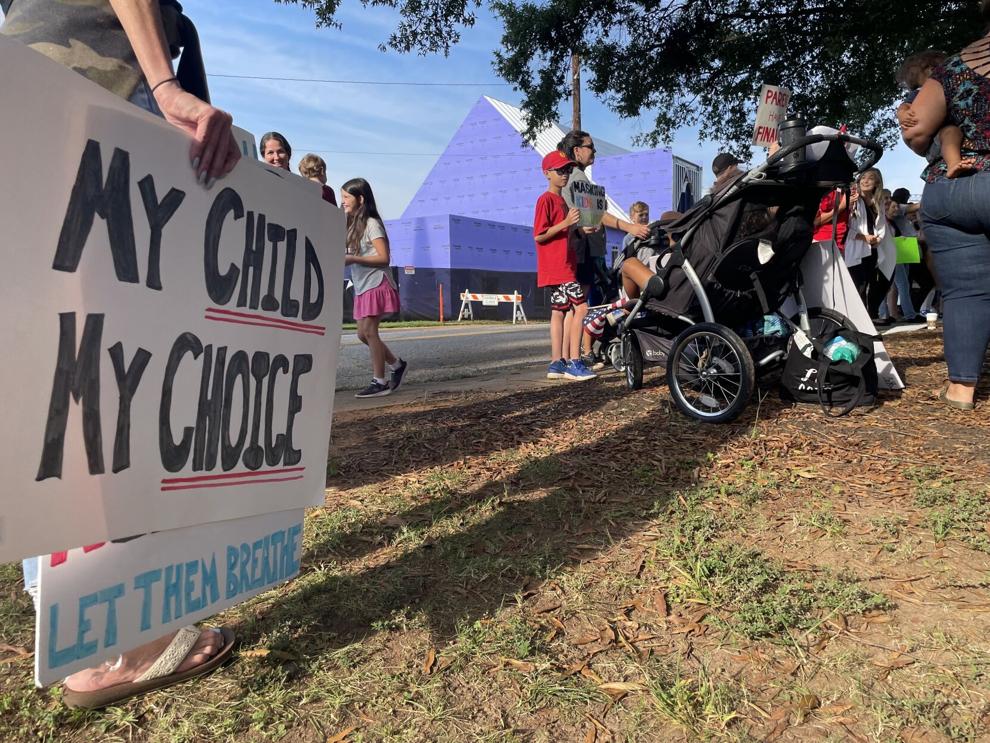 "I wasn't trying to make a political statement," Wilson said. "I was simply meeting with someone who happened to have a lot of notoriety attached to him at that time."
Wilson's allies say he's not entirely partisan, especially on state-level issues.
He has worked across the aisle to pass legislation at the Statehouse, for example. In 2019, he became the first Republican attorney general to join a lawsuit against the Trump administration over its plans to explore drilling for oil off the Atlantic Coast.
And last year, Democrat Richardson noted, Wilson likely angered many conservatives when he argued that part of the Heritage Act, the 2000 law that protects Confederate monuments on public grounds, is unconstitutional. The Supreme Court later agreed with Wilson, striking down a section of the law that requires approval from a supermajority of the Legislature to remove those monuments.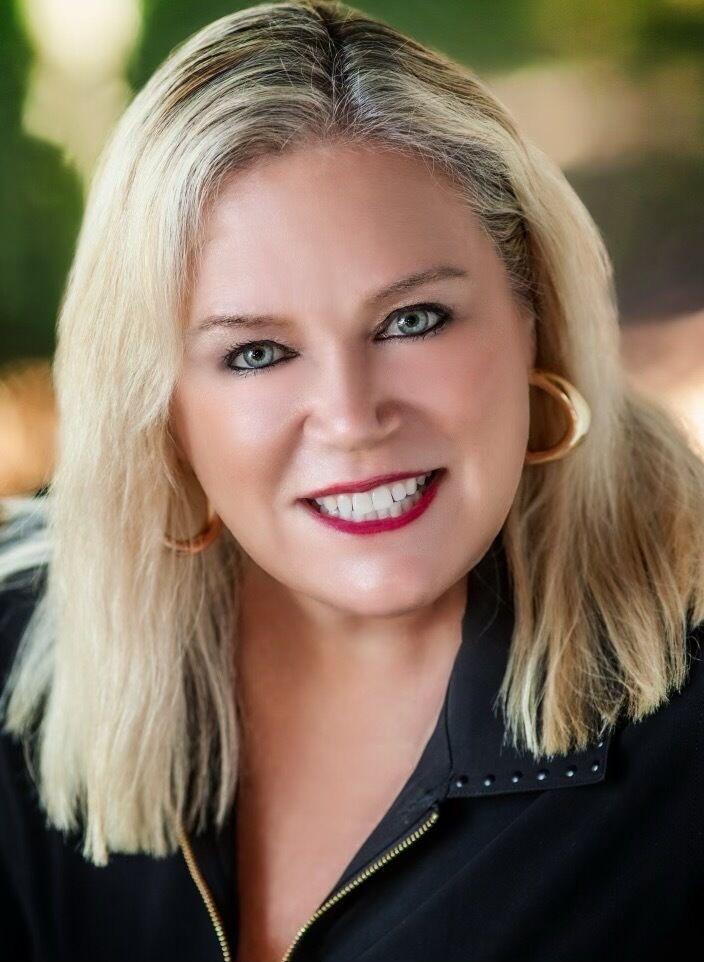 "On an issue that is clearly red meat for the base, where he could have held the line and barricaded the door, he went out on a limb," Richardson said.
That stand is one of the reasons Wilson has drawn a primary challenger to his right this year. Martel, his sole GOP primary opponent, says Wilson didn't go far enough in protecting Confederate monuments and opposing the Biden administration.
"You have a stand-down attorney general across the board," Martel told The Post and Courier. "When he steps up to say something, it's a day late and a dollar short."
Others say the attorney general job is inherently political, and Wilson sees it as his job to fight for the interests of the ruby red state that keeps electing him. Democratic attorneys general mount similar challenges against Republican presidents, they note.
"He's a very committed conservative," said Mark Powell, a GOP consultant and former Wilson aide. "He's not a convenient conservative."
Backscratching?
Wilson is less conservative when handing out legal contracts to his friends and political allies, detractors say.
The attorney general's office is embroiled in a state Supreme Court fight over its decision to award $75 million in legal fees to two law firms that helped pry a $600 million settlement from the federal government over its failure to remove toxic plutonium from the Savannah River Site.
One of those firms is Wilson's old employer, Willoughby and Hoefer, which has earned millions in contingency fees on other cases for Wilson's office over the years.
"This deal reeks of political cronyism," Pascoe, a frequent Wilson foe, wrote in a scathing letter to the attorney general after the announcement. "The attorneys reportedly receiving this unconscionable amount of state funds are your closest political friends."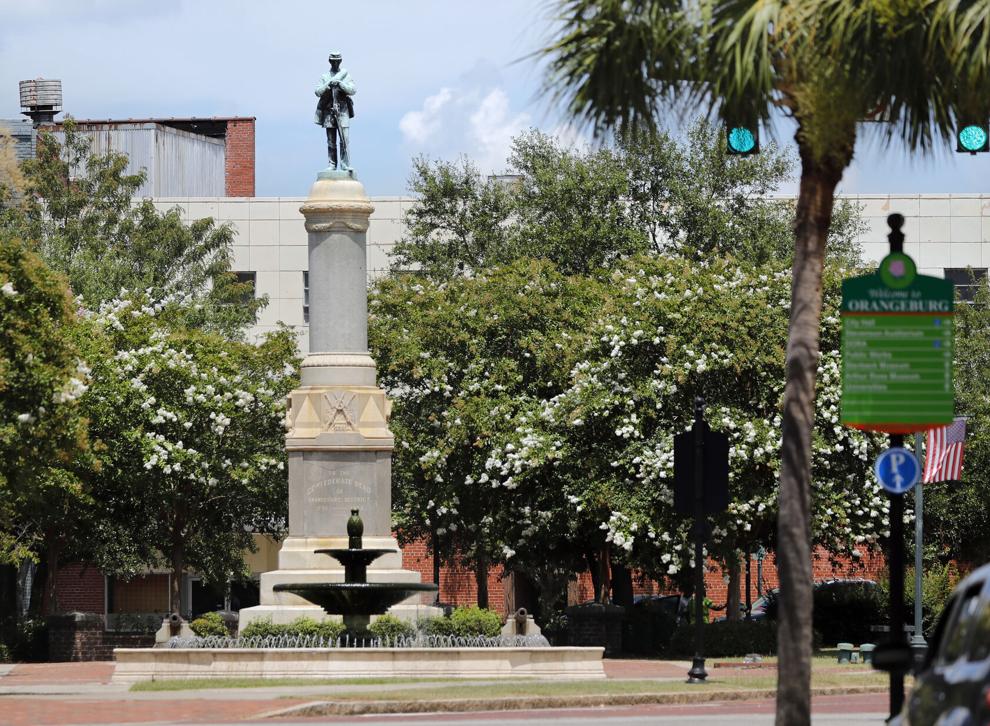 McMaster also decried the deal, saying he could not endorse the attorneys' fees since the settlement was also the fruit of years' worth of lobbying by South Carolina's congressional delegation.
Wilson has defended the arrangement, saying the law firms secured the largest settlement in state history, resolved a yearslong legal fight with the federal Department of Energy and secured promises to remove the dangerous material by 2037.
Like almost every civil case in which Wilson's office hires outside counsel, the firms were chosen because they approached the Attorney General's office with the idea of filing a lawsuit and presented a strategy for pursuing it, Wilson said.
The firms earn a percentage of the settlements or judgments they secure — but only if they win, meaning the state takes on no risk, Wilson noted.
"I didn't pick them," Wilson said. "They brought the case."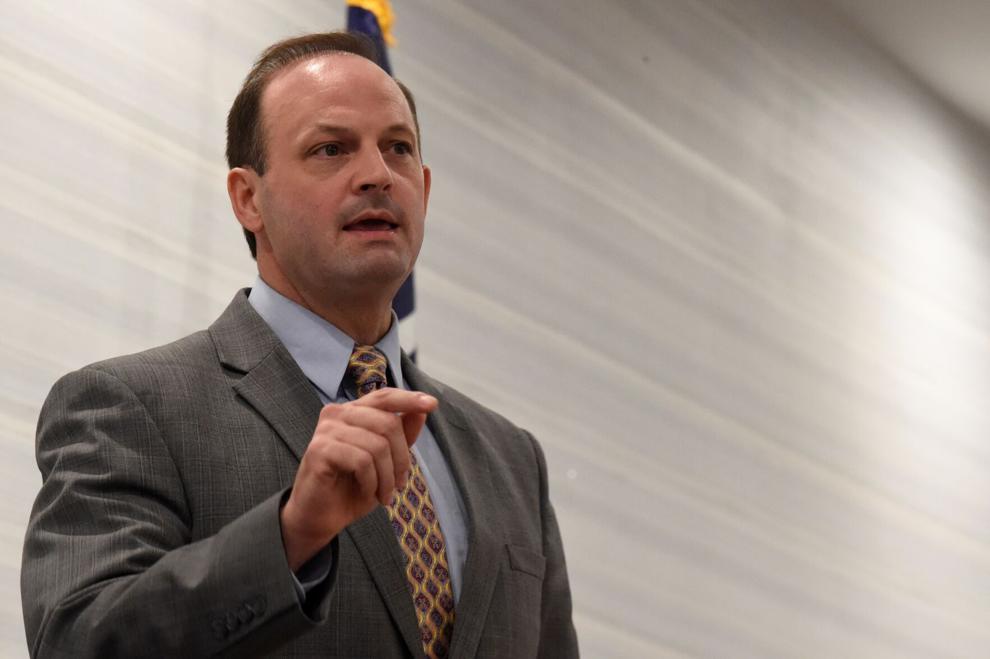 The MOX settlement fight has drawn attention to Wilson's other sole-source contracts with a half-dozen current and former legislators, including powerful S.C. House Speaker Murrell Smith.
The Sumter Republican, who until recently led the House's budget committee, is working on a pair of cases for Wilson's office involving pharmacy benefit managers and insulin pricing.
Smith has been a supporter of Wilson in the Legislature. Last year, he sponsored a bill that would have let Wilson move from the general state retirement system to the far more lucrative plan for judges and solicitors. He also pushed an effort to have the attorney general added to the Commission on Prosecution Coordination. Neither bill passed.
That relationship looks too cozy, Pascoe said.
"We need to see if there is an improper relationship," Pascoe said. "We need to see if there is some backscratching going on."
In a written statement released through a spokeswoman, Smith praised Wilson as an "outstanding public servant" and reiterated his efforts to support him in the Legislature.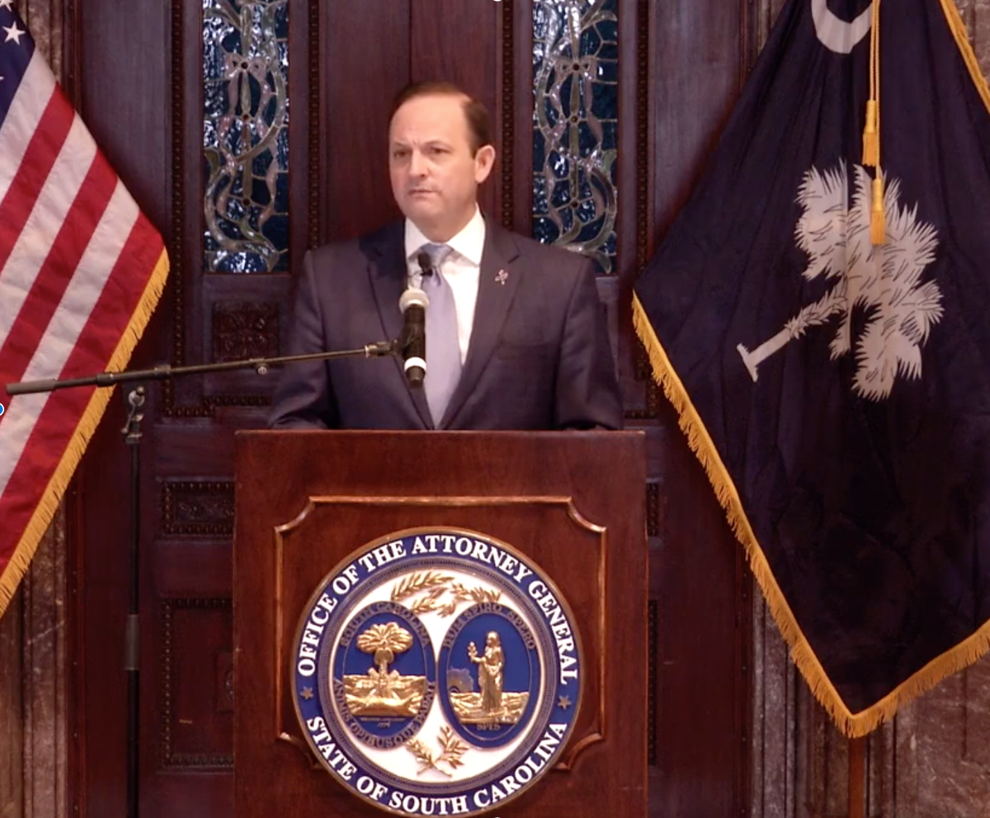 "The General Assembly recently proposed an increase in salary for the Attorney General," Smith said. "This is a step towards a more fair compensation for one of the most indispensable leaders of our state. Among all other states, South Carolina ranks at the bottom in pay for this office, which we found to be unacceptable."
Wilson insisted he doesn't hire firms based on their political influence. Instead, he said, he evaluates whether a law firm has the bandwidth and expertise to successfully bring the case they pitch.
"It's not us back here cracking walnuts in smoke-filled rooms and saying 'Who can we reward?'" Wilson said.
'People plan and God laughs'
Wilson is used to backlash after a dozen years in a job that regularly forces him to take a side on divisive issues.
"You're always going to offend half the people in the room," Wilson said.
Perhaps that's a reason why few of the 50 previous S.C. attorneys general can match Wilson's longevity in the job. Another four-year term would give Wilson 16 years in office. Just two S.C. attorneys general have lasted longer. Most recently Daniel McLeod served 25 years as attorney general from 1959-84.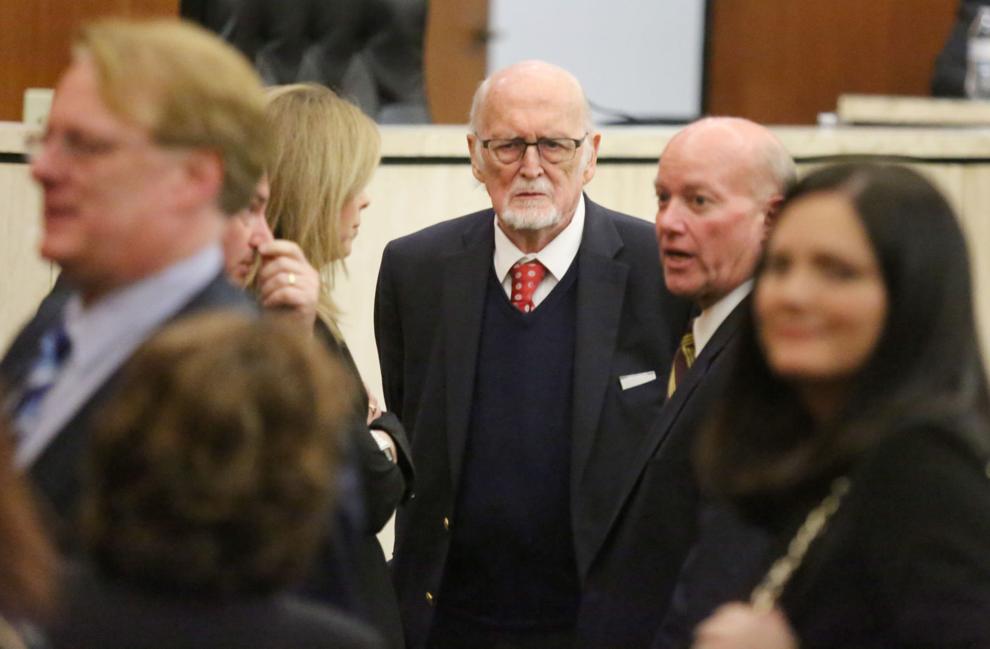 The job's daily grind and low pay — allies estimate Wilson could be making four times as much in the private sector — also tend to drive incumbents away. Others have used the job as a springboard to raise their political profile before running for higher office.
Wilson remains popular among conservatives and is one of the most sought-after endorsements for down-ballot Republicans, political operatives say.
But how he might leverage that popularity remains a mystery, even to his closest friends.
Eleventh Circuit Solicitor Rick Hubbard, both a former boss and a former employee of Wilson's, said he often teases Wilson that "AG" stands for "aspiring governor" but never gets a clue about Wilson's future plans.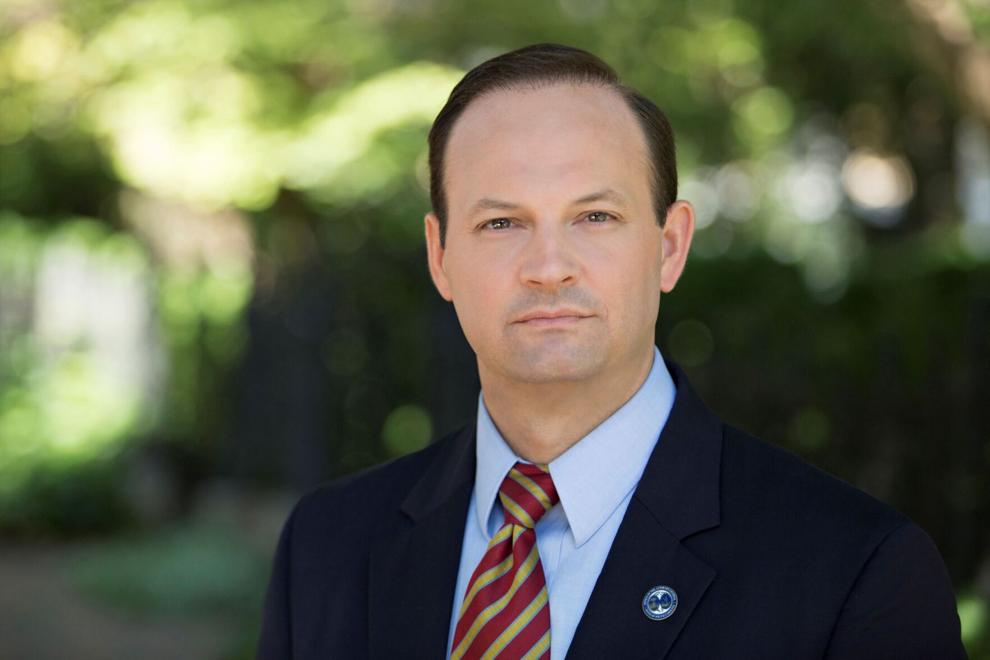 Former Attorney General Charlie Condon, Wilson's one-time boss, said the governor's office would be a good fit. The Charleston Republican and others can envision Wilson running for his father's congressional seat or U.S. Senate.
Democrats would argue Wilson's record of partisanship shows he has been running for higher office ever since he took the job.
Still, those seats can take a while to open up. Wilson could return to private practice to make money before another run for office. Or he might stay on as attorney general, keeping himself in the spotlight until the next opportunity comes.
"I think he can have that job as long as he wants," Condon said. "From a raw political perspective, I do think he's unbeatable."
Wilson quickly shuts down that kind of talk, saying he's committed to another term as attorney general and won't think beyond the next four years.
"There's an old saying, 'People plan and God laughs,'" Wilson said. "If you make plans that far out, you're not going to do the job well."

link