After two years of an evenly divided chamber, the victory of Raphael Warnock in the Georgia Senate runoff has tipped the scale 51-49 towards the Democrats, likely putting an end to the power struggles between the party and some of its most rebellious lawmakers—such as Kyrsten Sinema.
The Arizona senator has been the target of Democratic anger in recent months, after she held the Biden administration to ransom on several key votes—including the president's push to enact sweeping voting-rights legislation and to codify Roe v. Wade and other abortion rights in federal law after the ruling was overturned by the Supreme Court.
In late June, Sinema again refused to reform the legislation that requires 60 votes to pass most legislation, as urged by the president, because she was "still opposed to gutting the filibuster on any topic including on reproductive rights," her office told CNN.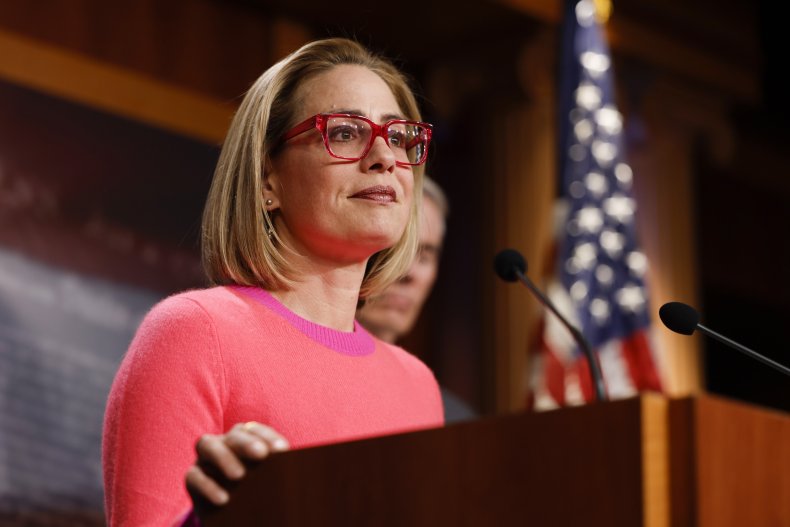 Her refusal to support Biden's initiative annoyed many in the ranks of the Democratic Party, who called her an hypocrite.
At the end of June, a fundraising email from Sinema's campaign highlighted her work to "protect women's health care," drawing the ire of critics including Tim Fullerton, a digital strategist for the Obama administration. "The nerve of Krysten Sinema to include this in her fundraising appeal tonight is really just astounding," he tweeted.
Communications strategist Sawyer Hackett also hit out at Sinema's decision, writing on Twitter: "Since taking office, Kyrsten Sinema has voted twice for measures with filibuster carve-outs—to raise the debt ceiling and confirm a Supreme Court justice. Why wouldn't she do it to pass the bill to codify Roe—a bill she cosponsors?"
In a 2021 op-ed for the Washington Post, Sinema had explained her disagreement with changing the filibuster. She wrote: "To those who want to eliminate the legislative filibuster to expand health-care access, would it be good for our country if we did, only to later see that legislation replaced by legislation … defunding women's reproductive health services?"
This year, Sinema denounced the Supreme Court's ruling on Roe, saying it endangered "the health and wellbeing of women." She supported the idea of Congress codifying abortion rights into federal law, but not the way the Biden administration wanted.
In August, Sinema—together with Senators Tim Kaine (D-VA), Lisa Murkowski (R-AK), and Susan Collins (R-ME)—introduced legislation that aims to codify Roe and protect access to contraception.
In the run-up to November's midterms, Sinema was also criticized by other Democrats for not publicly supporting Mark Kelly in his campaign against Blake Masters, a political newcomer endorsed by Donald Trump. Rep. Ruben Gallego, who represents Arizona's 7th congressional district, accused her of only caring about herself.
The majority rule that Senate Democrats will enjoy in the 118th Congress will chip away at Sinema's influence, but she will likely stick to her bipartisan tendencies, especially as she is up for re-election in 2024.
"The 51-vote majority means that the Democrats don't need every single vote, so Sinema can't hold up legislation on her own, but if she combines with Joe Manchin, as they have done before, they could continue to extract concessions from Democrats in exchange for their votes," Jonathan Parker, senior lecturer in American studies at Keele University in the U.K., told Newsweek.
"That one-vote cushion means that she or Manchin could potentially vote against the Democrats if they see a position as unpopular in their state. That's really important with both of them facing a difficult re-election campaign in 2024."
Parker added: "While she may frustrate Democrats on the left of the party, it would be a huge mistake to mount a strong primary challenge to her in Arizona. Republicans hope to remove her from a relatively conservative state, and her ability to force compromise in the Democrats' legislation gives her a better record to run on in 2024.
"Replacing her or [West Virginia Senator] Joe Manchin with a more leftwing Democrat is the best way to ensure those states elect Republican senators."
To avoid a primary in Arizona before the 2024 election, Sinema will have to win back Democrats—not an easy feat, according to Parker.
"Sinema has antagonised fellow Democrats in ways that seem unhelpful. She needs to differentiate herself from the party mainsteam, but that doesn't mean she has to go out of her way to troll them. That strategy may prompt a strong primary challenge which would weaken her in the general election," he said.
Parker points out that Sinema has voted with the Democratic majority 93 percent of the time. "So she clearly supports her party in the Senate," he said, "but the question is whether her attempts to differentiate herself in Arizona have antagonised the more left-leaning Democratic base voters in the process."
Some of her recent votes in support of same-sex marriage and immigration reform look like they might be attempts to appease the progressive base.
"Sinema was apparently very engaged in shepherding thru the recent marriage equality bill, tweeted lawyer Sherrilyn Ifill, former president and director-counsel of the NAACP Legal Defense Fund. "But her failure to campaign vigorously for Sen. Kelly, to denounce Kari Lake's election denial, to address the unhinged conduct of the Cochise Election Board shld be the focus of media attn."
At the end of November, the Senate passed the Respect for Marriage Act to codify protections for same-sex and interracial marriages. Sinema was one of the bill's co-sponsors in the Senate.
On Monday, she and GOP Senator Thom Tillis of North Carolina unveiled a bipartisan framework for changes to immigration law. "WHOA!!! Sinema with immigration reform right before she seeks re-election," tweeted reporter Eric Michael Garcia.
The framework proposal would allow Democrats to give a path to citizenship to more than 2 million "Dreamers" who migrated to the U.S. as children without authorization, according to The Washington Post.
In return, Republicans would get increased border security resources and an extension of at least one year to the Title 42 policy, which allows for the rapid expulsion of migrants at the border on health grounds.
Newsweek has contacted Senator Sinema for comment.

link