President Joe Biden has suggested that having more Republicans such as Marjorie Taylor Greene in the GOP-controlled House will help push forward bipartisan collaboration on numerous issues, including immigration and police reform.
The president listed some bills that were passed in Congress by bipartisan efforts such as the infrastructure bill, the Marriage Equality Act, and the PACT Act, which is a new law that expands healthcare and benefits for veterans. His remarks came as part of an address to House Democrats at the House Caucus Issues Conference Wednesday night in Baltimore.
Biden expressed hopes that House Democrats can achieve more bipartisan cooperation in the House, despite avid criticism from several MAGA Republicans.
"It's hard as hell, I acknowledge, but it's there," the president said of a potential bipartisan collaboration.
"And, you know, a little bit of more Marjorie Taylor Greene… and you're going to have a lot of Republicans running our way," he said, which prompted the crowd to burst into laughter and applause. "Isn't she amazing? Oof."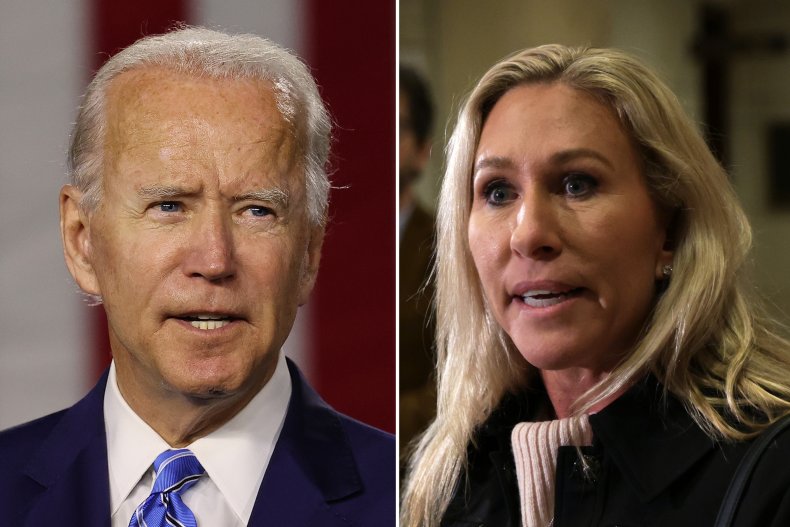 Greene, a staunch supporter of former President Donald Trump, has long criticized the Biden administration over a number of issues related to immigration, the COVID-19 pandemic, and the handling of the recent suspected Chinese surveillance balloon— which was shot down several days after it was detected floating in U.S. airspace.
The Congresswoman has repeatedly touted baseless claims of election fraud and recently mulled an American "national divorce," suggesting that Red and Blue states should be divided.
She argued that "we are done" because of "the sick and disgusting woke culture issues shoved down our throats" by progressives. However, the plan didn't gain the attention of her fellow Republicans and was denounced by several right-wing commentators.
The Georgia Republican has previously heckled the president, including during his State of the Union address in February when he spoke about alleged plans from some Republicans to cut Social Security and Medicare. At that moment, Greene shouted out "liar, liar" in response to his comments.
In another instance, Greene claimed that Biden is responsible for fentanyl overdose deaths. On Tuesday, she shared a clip to Twitter of House testimony from Rebecca Kiessling, a mother who lost two sons to fentanyl overdoses in July 2020—when former President Donald Trump was in office.
The congresswoman asked the mother during the hearing whether her sons would be alive "if our government would secure our southern border," which has numerously seen the seizure of large amounts of the drug. Kiessling responded "absolutely."
"Listen to this mother, who lost two children to fentanyl poisoning, tell the truth about both of her son's murders because of the Biden administrations refusal to secure our border and stop the Cartel's from murdering Americans everyday by Chinese fentanyl," Greene wrote on Twitter.
Biden referenced her accusations on Wednesday and pointed out that the deaths of the women's sons happened when Trump was president.
"I've read she was very specific recently, saying that a mom—a poor mother who lost two kids to fentanyl, that I killed her sons. Well, the interesting thing is that fentanyl they took came during the last administration," he said.
Newsweek has reached out to Greene's media office for comment.
link