Sitting in my law office in London's leafy South Kensington, overlooking the campus of Imperial College and the Royal Albert Hall, it's incredible to believe that 23 years ago, my partner William and I were wrapping up our lives and professions in San Francisco—kissing our families goodbye, about to embark on a journey into the unknown.
Our inability as a same-sex couple to marry, coupled with our refusal to settle for second best and live a life of indefinite insecurity, forced us to seek elsewhere the liberty and respect denied us in the United States.
Even though things have improved as regards marriage equality, I fear the signs of a reversal of this progress by a conservative Supreme Court similar to the reversal of Roe v. Wade.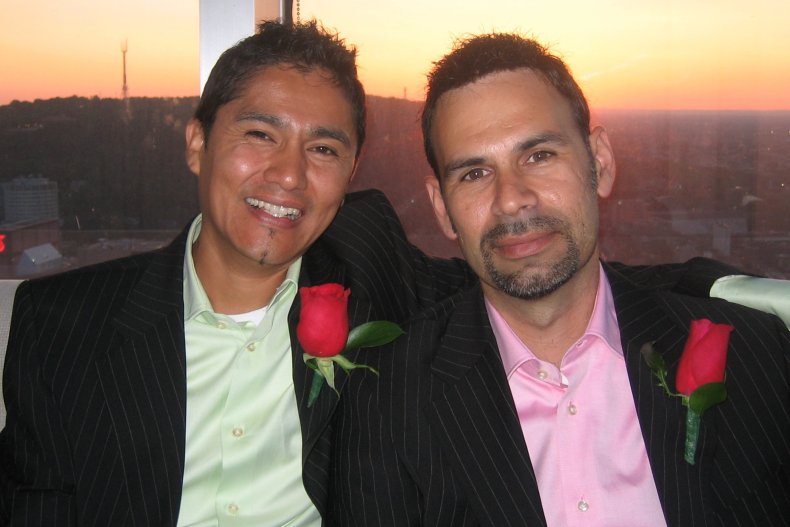 William and I first met in Los Angeles in 1991. I'd just graduated law school and was studying for the California Bar Exam, while William was the assistant manager of a Beverly Hills insurance brokerage.
Aside from our physical attraction, we found that we shared an intense love of film, nice restaurants, but, most of all, travel. We soon fell for each other and became inseparable, blissfully unaware of the adventure that awaited us.
Soon after I launched my legal practice, William left his job at the insurance brokerage and joined as my office manager. We became a 24/7 couple, living and working together full-time. Six years later, we relocated to San Francisco, where my practice took off.
We loved our life in beautiful, vibrant San Francisco and became fixtures in the local legal community. We enjoyed a stable relationship supported by both our families, a growing business, and a fabulous apartment with sweeping views of the Pacific and the Farallon Islands. To be honest, we couldn't have asked for more.
On weekends, we took full advantage of the touring opportunities on offer in the Bay Area, exploring the coast, the wine country, and the redwood forests. Whenever we could spare the time, we'd venture further afield on long driving trips to places such as Lake Tahoe, Las Vegas, the Grand Canyon, and as far flung as the northern and southern borders of the United States.
But we could never go beyond those borders—not without imperiling both our relationship and our future.
This was because William was in the United States on a grant of what the U.S. government calls Temporary Protected Status or "TPS". He had fled the dangers of El Salvador's civil war in the 1980s and had settled in Los Angeles. By the time he and I met, he'd been living and working in the U.S. for over five years.
According to the U.S. immigration rules, once the period of danger in one's home country is over, anyone granted TPS is meant to be served with a deportation notice. They are then offered the opportunity either to argue a claim for asylum or leave the country.
However, if they step foot out of the country without authorization from the U.S. government whilst they are on TPS, even for a day, then they forfeit their protected status and are not permitted to return—unless they've found a way to regularize their status by marrying a U.S. citizen.
This became our great dilemma.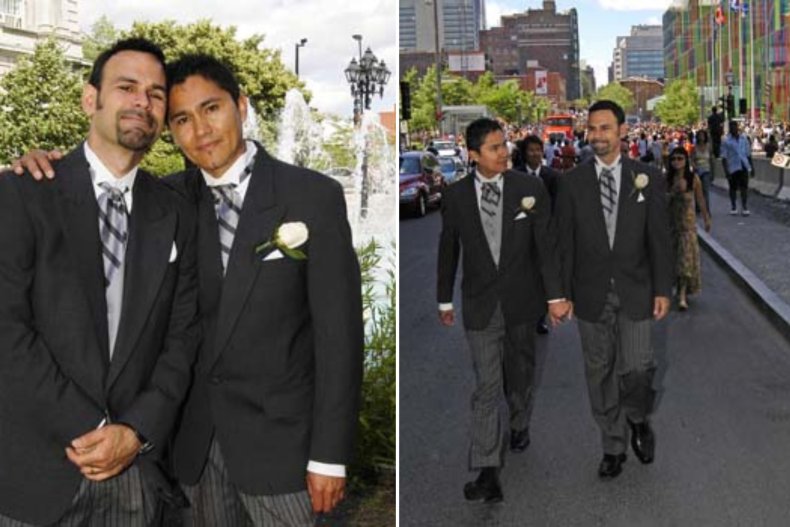 In the 1990s, marriage in the United States was available only to heterosexual couples. That privilege was withheld from same-sex couples such as William and me, regardless of how long they'd spent together in a loving, committed relationship. This seemed crazy to me.
Had I been allowed to marry William, I would have done so in a hot minute—why was our relationship valued less than anyone else's? This really killed me. After all, we were an honest, hard-working couple, who had only ever helped others.
Why, then, were we forced to live with the sword of Damocles dangling over our heads, never knowing when we'd be served with a deportation notice?
The unfairness and frustration of the situation put a heavy strain on our relationship and our professional lives. We had to find a solution to our dilemma if we were to survive as a couple.
William and I faced what at the time seemed an impossible choice. We could either continue to wait for a deportation notice and then fight like hell to win William's case in the courts, or we could proactively emigrate to another country where we could both hold the same nationality.
In the end, we chose what we felt was the most pragmatic approach. Since William and I valued our relationship over and above both home and country, the most logical choice for us was to proactively leave my native home, before Uncle Sam booted him out, and emigrate to a country that we felt welcomed and respected us as a couple.
That country was Canada. I swear, when we stepped off the plane at Pearson International Airport in August 1999, I kissed the tarmac. We were processed into the country as new immigrants and welcomed with open arms.
I'd never felt freer in my entire life as we went about setting ourselves up in our new country. I was delighted to find the fact we were a gay couple was a non-issue for anyone we met.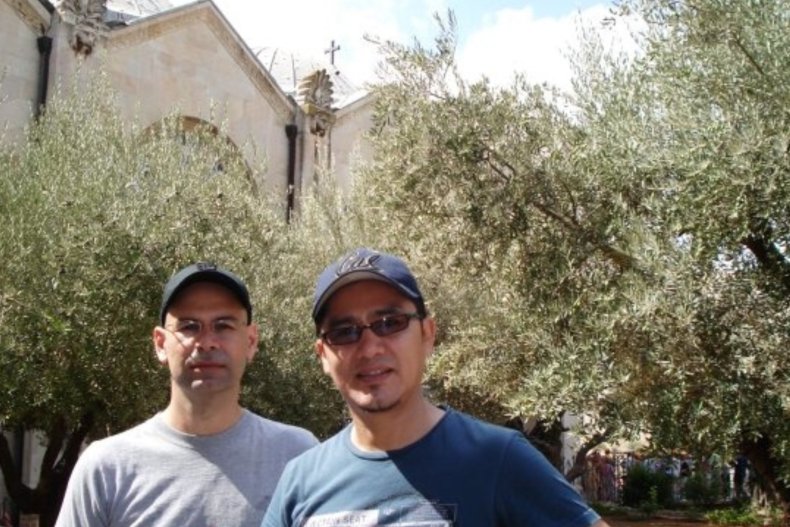 As I embraced that reality, I felt as if a heavy weight had been lifted off my back. I was also surprised to find that our respective ethnicities were of no consequence. People on the street, our neighbors, and our co-workers, accepted us as new Canadians from the start.
Nevertheless, there was a sting in the sweetness of those early days. There was no denying, we were starting from scratch: No home, no jobs, no recognized credentials, no friends, and no family. William coped a bit better with this, focusing on the positive as he helped set up our new home. I, however, experienced a crisis of identity.
I'd gone overnight from running my own thriving law practice to working temp jobs in Toronto law offices, resentful I'd been relegated to making photocopies and serving coffee.
To cope with the strain of my new reality, I started work on a memoir, where I recorded what William and I had experienced as a couple and how it had affected my professional life. I continued work on my memoir throughout a long, dark Toronto winter, growing ever more bitter at having been ejected from my country of birth.
It became clear to me, however, that a memoir forged in anger made for an unpleasant read. I was much too close to the material and lacked sufficient objectivity to produce anything better than 200,000 words worth of sour grapes.
And so, I shoved the manuscript into a drawer and focused, instead, on re-inventing myself as a foreign legal consultant, specializing in, of all things, United States immigration.
As it turns out, my immigration practice is more successful than my former practice ever was. To this day, I'm still awed by the irony that I'm helping individuals live and work in the very country—my country — that denied me the right to marry my partner and threatened to deport him to a place that was still reeling from civil war.
Two decades after shelving my aborted memoir, I happened across the material, dusted it off, and began the process of reimagining it as fiction—an alternate version of the real events in which I explored what would have happened had William and I chosen to remain in the U.S. and fight his case.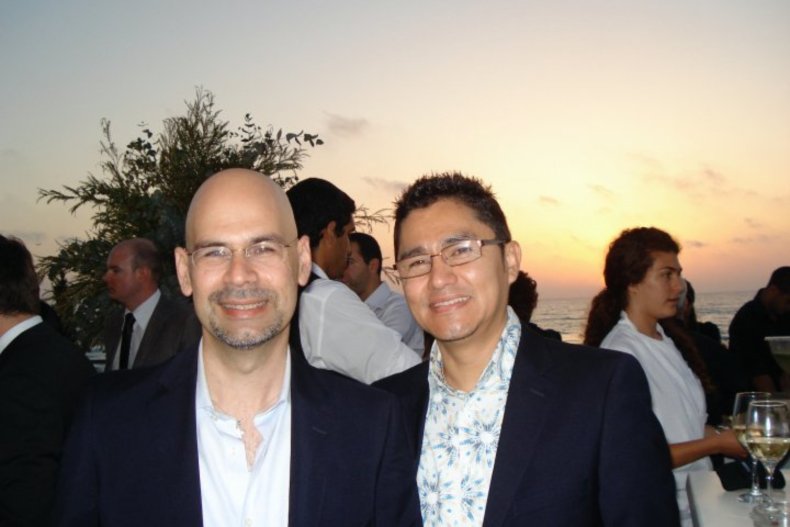 It was a format I felt better suited the subject and the result of this work is my third novel The Fitful Sleep of Immigrants. As such, it represents a kind of self-therapy, something that confirmed for me, once and for all, that our decision to leave was the right one.
Six years after our departure from the United States, once Canada legalized same-sex marriage, William and I were among the first same-sex couples to marry in Montreal's Hotel de Ville, supported by friends and family who flew in from far and wide.
A few months later, we relocated to London, where we have the world at our feet and our travel opportunities have expanded.
These days William and I are often asked whether we'd ever consider moving back to the United States now that marriage equality is the law of the land. Our answer to this question is a resounding no.
Although I count myself as a proud American Expat and enjoy our annual visits to California to reunite with our families, once William and I tasted life outside the United States, including the liberal social policies we sought, there was no going back for us.
I believe there's still a long way to go before we who are LGBTQ+ are on equal footing with everyone else. Along our journey, we've encountered several other couples with similar stories, and it is to them, and many others, that I have dedicated The Fitful Sleep of Immigrants.
I'm hopeful that my book, as a crossover novel, and the speaking opportunities it affords me, may engender some empathy for our cause and help swing the pendulum of public opinion a bit more to our side.
Orlando Ortega-Medina currently lives in London, where he practices United States immigration law and writes fiction. The Fitful Sleep of Immigrants is available April 18.
All views expressed in this article are the author's own.
Do you have a unique experience or personal story to share? Email the My Turn team at [email protected].
link