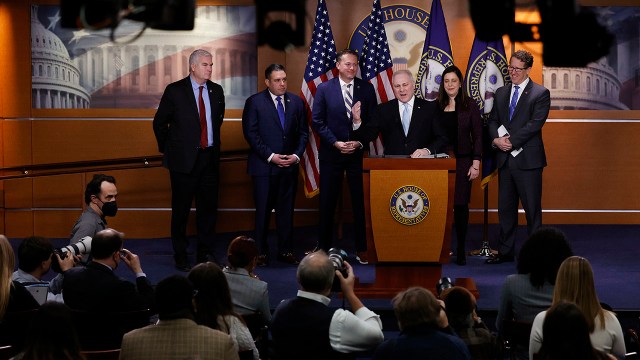 Republicans now hold a narrow majority in the U.S. House of Representatives, the first time they have controlled the chamber in four years. The GOP's first weeks in power have been marked by drama – most notably by Kevin McCarthy's protracted, 15-ballot victory to become House speaker.
As the new Congress gets underway, here's a look at the expectations that Republicans in the United States have for the next two years, as well as their views on key issues and the future of the Republican Party, based on recent Pew Research Center surveys.
This Pew Research Center analysis examines key attitudes among Republicans in the United States as the 118th Congress gets underway. All findings are drawn from previously published surveys and other studies by the Center. Links and methodological information about each study are included in the text of this analysis.
Republicans, like Democrats, have modest expectations for the 118th Congress. In a Center survey conducted shortly after the 2022 midterm elections, fewer than half of Republicans and Republican-leaning independents (44%) said congressional Republicans would be successful in getting their programs passed over the next two years. However, Democrats and Democratic-leaning independents were not much more optimistic that their programs would advance: 48% said President Joe Biden would be successful in passing his agenda.
Republicans have become somewhat less optimistic about their party's future. In November, before the protracted debate over Rep. McCarthy's speaker bid, about two-thirds of Republicans (65%) said they were optimistic about the party's future. That was 9 percentage points lower than after former President Donald Trump's election defeat in 2020 and 18 points lower than after the 2018 midterm elections.
Republicans are largely united in their views on government, national defense and policies involving race. Pew Research Center's 2021 political typology study found that Republican-aligned groups in the typology shared support for smaller government, a strong national defense and a rejection of the view that the country needs to do a great deal more to address racial inequities. Large majorities in all of the GOP-oriented groups said the government is doing too many things that would be better left to business and individuals; that government policies should be aimed at maintaining the United States' status as the lone military superpower; and that White people derive little benefit from their race.
There are fissures in the GOP coalition. The same typology study found fissures in the GOP coalition, including over economic fairness, tax policy, and in views of abortion and same-sex marriage. For example, in one of the four Republican-oriented typology groups – Ambivalent Right – a majority had a positive view of the impact of legalizing same-sex marriage. Two other groups were divided, while a majority of Faith and Flag Conservatives said it was bad for society.
Republicans have soured on many national institutions in recent years. Fewer than half of Republicans and Republican leaners say technology companies, banks and other financial institutions, K-12 public schools, labor unions, colleges and universities, and large corporations have a positive effect on the way things are going in the country, according to a fall 2022 survey. The share of Republicans who say banks have a positive impact has fallen 25 points since 2019 (from 63% to 38%) and the decline has been similar in Republicans' views of large corporations (from 54% to 26%).
The Supreme Court remains popular among Republicans. Nearly three-quarters of Republicans and Republican leaners (73%) expressed a favorable view of the high court in a survey conducted last August, shortly after a term that included the overturning of Roe v. Wade. That was 8 points higher than in January 2022. By contrast, just 28% of Democrats and Democratic leaners viewed the Supreme Court favorably in August, 18 points lower than at the start of last year and a decline of more than 40 points since 2020. The result: the largest partisan gap in the more than three decades of polling on the high court.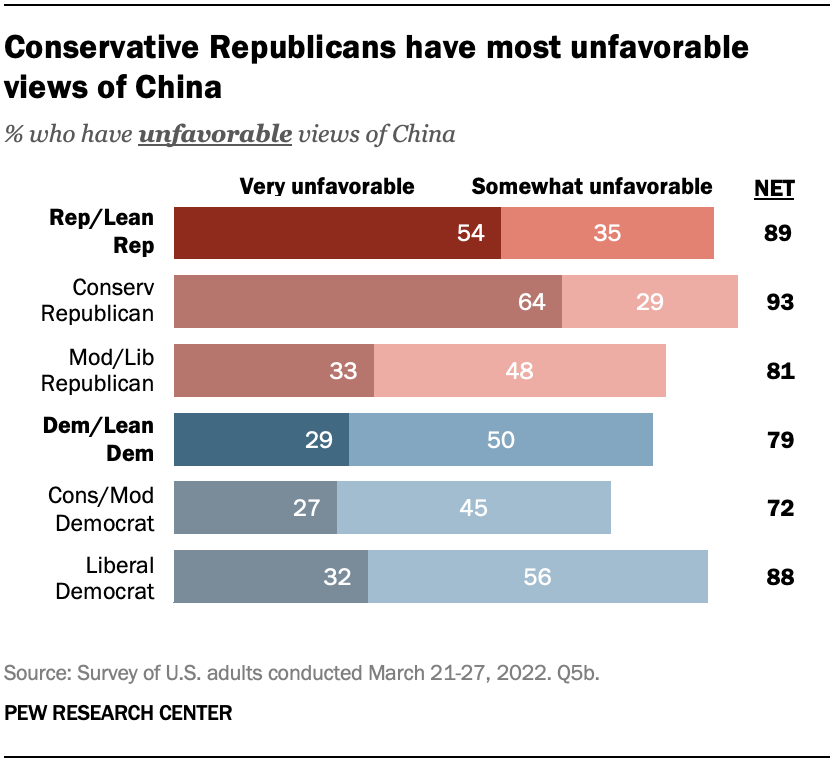 Conservative Republicans have an especially negative view of China. In a survey conducted last spring, 82% of U.S. adults expressed an unfavorable view of China, including 89% of Republicans and 79% of Democrats. However, conservative Republicans stood out for their criticism: 93% expressed an unfavorable view of China, including nearly two-thirds (64%) who said they had a very unfavorable view – far higher than any other ideological group. And in a Center survey last fall, conservative Republicans were far more likely than moderate or liberal Republicans or Democrats to regard China's military power, as well as its economic competition with the U.S., as very serious problems.
On immigration policy, Republicans overwhelmingly prioritize securing the U.S.-Mexico border. While majorities in both parties have long viewed increased security along the U.S.-Mexico border as an important goal for U.S. immigration policy, Republicans were more than three times as likely as Democrats (72% vs. 22%) to say this is very important in a survey conducted last August. Republicans also were far more likely than Democrats to say it is very or somewhat important to increase deportations of people in the country illegally, and they were less likely to favor creating a path to legal status for those in the U.S. illegally.
Before the midterms, the share of Republicans with a positive view of Trump had slipped. In an October 2022 survey, most Republicans expressed a warm view of the former president, but the share saying this – as measured by a "feeling thermometer" ranging from 0 to 100 – had fallen since 2020. Six-in-ten Republicans said they had warm feelings toward Trump in October, down from 67% a year earlier and 79% in April 2020, during Trump's unsuccessful reelection campaign.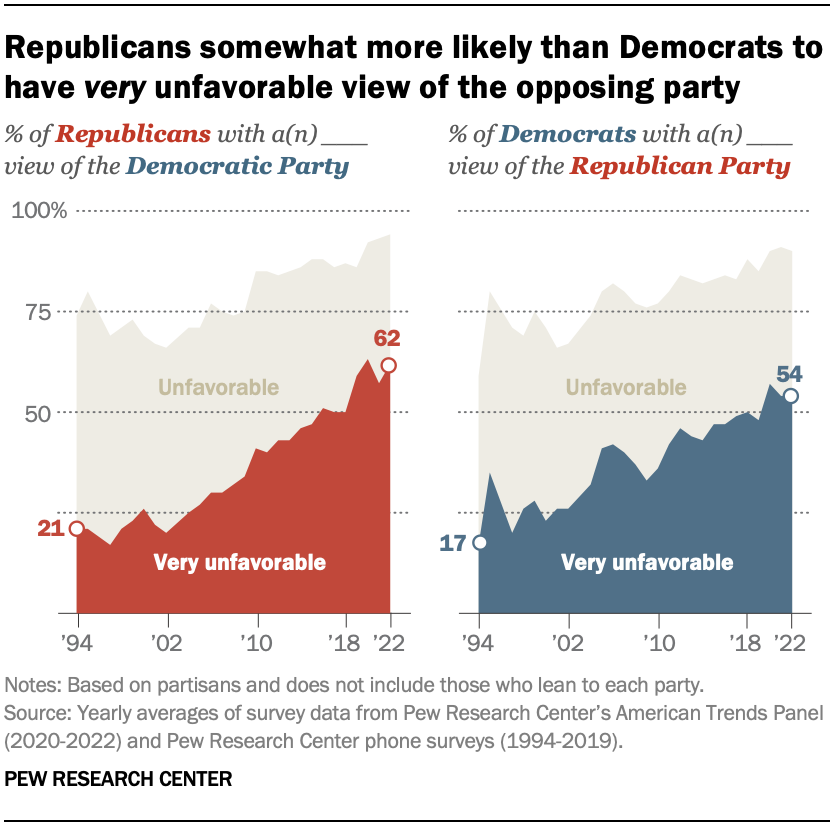 Republicans and Democrats have more dislike for the opposite party than in the past. Since the mid-1990s, partisan antipathy has risen substantially among members of both parties. In a survey conducted last year, 62% of Republicans said they had a very unfavorable view of the Democratic Party, nearly triple the share who said this in 1994. A smaller majority of Democrats had very unfavorable views of the GOP (54%), but this share has also tripled since the mid-1990s.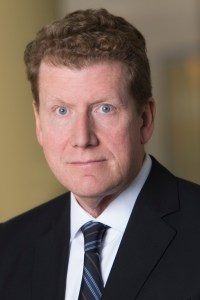 Carroll Doherty  is director of political research at Pew Research Center.
link