As Georgia's U.S. Senate candidates make a last push for votes ahead of Tuesday's midterm election, Republican Herschel Walker said that he would fight for aliens, but only the extraterrestrial kind.
At a campaign rally on Sunday in Hiram, Georgia, Walker said, "If you're a Martian and you live in the United States of America, I'm gonna protect you too. Because you belong to my family."
The Senate hopeful's comments were shared to Twitter in a video from lawyer Ron Filipkowski. The clip racked up over 600,000 views by Monday afternoon.
Walker's race against Democratic Senator Raphael Warnock is neck-and-neck as the state shatters early voting records. Over 2.5 million Georgians had cast their votes by Saturday, breaking the previous record of 2.1 million, according to elections official Gabriel Sterling.
Polling aggregator FiveThirtyEight put Walker 1 point ahead of Warnock on Monday, but projections have flip-flopped in recent days. A SurveyUSA poll forecasted Walker's defeat on Thursday and a poll from Marist College on Friday showed the race was tied.
Walker's remark about protecting interplanetary residents of the U.S. sent "Martians" trending on Twitter. Some viewers said they were stumped by his wording, while others seized on it to deride the scandals that have marred Walker's campaign.
"Herschel Walker just announced that he's going to protect any Martians who live in the United States because they belong to his family," tweeted Democratic fundraiser Jon Cooper. "Martians. I listened to the video three times—he really said Martians."
"Martians aren't even safe from being Herschel Walker's secret kid," replied one Twitter user. Walker, who has called for a national abortion ban, was forced to defend himself last month after two women claimed that he impregnated them and paid for their abortions.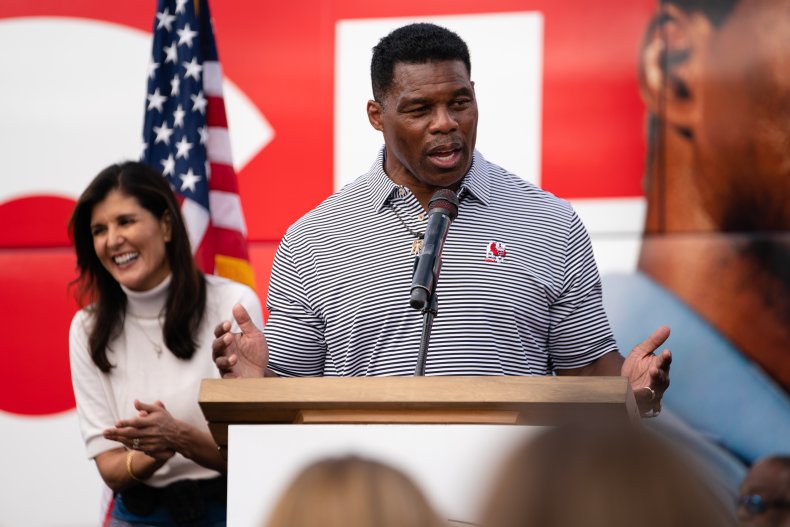 Another user jeered, "Of all the questionable things Herschel Walker has said, I find this the most problematic—because if we invite Martians into our communities, what's next? Legalizing Martian-human marriage? It's Adam and Eve, not Adam and M'gann."
George Conway, a lawyer and Trump critic who is married to Kellyanne Conway, derided Walker's comment in another tweet.
"But Martians would be…undocumented aliens!" Conway wrote. Walker has previously said that illegal immigration brings "drugs, crime and human trafficking" into Georgia.
During the same rally in which Walker offered to protect theoretical Martians, Nikki Haley—former ambassador to the United Nations under the Trump administration—slammed the Democrats' immigration policy.
"Legal immigrants are more patriotic than the leftists these days," Haley said. "They knew they worked to come into America and they love America. They want the laws followed in America. So the only person that we need to make sure we deport is Warnock."
Warnock is an American citizen.
Newsweek reached out to Walker's campaign for comment.

link