Even after New York voters elected Santos the following year and news reports began exposing concerning questions about his conduct, that original report was never made public, until now. 
▶ Watch Video: CBS News obtains secret George Santos "vulnerability report"
When an outside firm hired by then-congressional hopeful George Santos in 2021 delivered a secret internal report detailing aspects of the candidate's checkered background, several of his aides found it too much to stomach. They urged Santos to drop out, and when he refused, they quit.
But even after New York voters elected Santos the following year and news reports began exposing concerning questions about his conduct, that original report was never made public, until now.
Portions of the report, published here for the first time, show that long before Santos' election, questions had surfaced about his marriage, his family's claimed link to the Holocaust, and his alleged ties to "companies that have been accused of fraud and scamming customers."
Santos' "vulnerability report" and GOP leaders' response
The so-called vulnerability report has emerged as Santos prepares to go to court to fight federal fraud charges. Such reports are often a standard step in the early stages of a campaign, when candidates are preparing for potential attacks from opponents. According to campaign finance records, on Dec. 2, 2021, the Santos campaign paid more than $16,600 to Capital Research Group, LLC, a Washington, D.C.-based firm whose services include vulnerability reports.
The report, obtained by CBS News, draws from, among other things, Santos' own social media accounts, unearthing posts and photos that have since been deleted.
A spokesperson for Santos declined comment on the report, adding his office does not comment on personal matters.
The report's conclusions ultimately circulated among campaign strategists for top House Republicans and led the Congressional Leadership Fund, the primary super PAC dedicated to electing House Republicans, to withhold its support of Santos, according to three sources familiar with the matter. A top House Republican, Elise Stefanik, campaigned with Santos well after the report was compiled.
Asked by CBS News about the report, a spokesperson for Stefanik pointed to a comment previously made to CNN.
"Congresswoman Stefanik supported all GOP nominees in targeted New York seats just like every other New York Republican elected official, candidate, NRCC, NYGOP, and the entire House Republican leadership team," a Stefanik campaign spokesperson said in January. The spokesperson added that Stefanik was not aware of allegations against Santos until after his election.
House Speaker Kevin McCarthy told reporters in January that "I always had a few questions about" Santos' résumé. His office did not reply when asked if he had seen the vulnerability report.
The report, which runs more than 100 pages, was commissioned in the fall of 2021 and raises similar questions over Santos' campaign finance activities that federal prosecutors have brought up in the criminal case against him, including apparent discrepancies in disclosures to Congress.
Read a portion of the original report below:
During the campaign, Democrats assembled their own research report on Santos, but it missed many of the most damaging details — a number of which have since been independently verified by CBS News and other news outlets.
Santos was indicted by a federal grand jury in May, and charged with seven counts of wire fraud, three counts of money laundering, two counts of making materially false statements to the House of Representatives and one count of theft of public funds.
U.S. Attorney Breon Peace said Santos "used political contributions to line his pockets, unlawfully applied for unemployment benefits that should have gone to New Yorkers who had lost their jobs due to the pandemic, and lied to the House of Representatives."
He has entered a not guilty plea to all charges. And in television interviews, he has disputed some of the allegations.
"I did not take money from my campaign for personal use," Santos told NewsNation last month.
The unsparing report, the existence of which was first reported by The New York Times, alleged many of the fabrications that eventually emerged in news reports after Santos was elected.
A questionable résumé
Santos claimed to have studied at NYU and the City University of New York's Baruch College, but when researchers reached out to those institutions, they say "there was no record of Santos earning any degree from either university."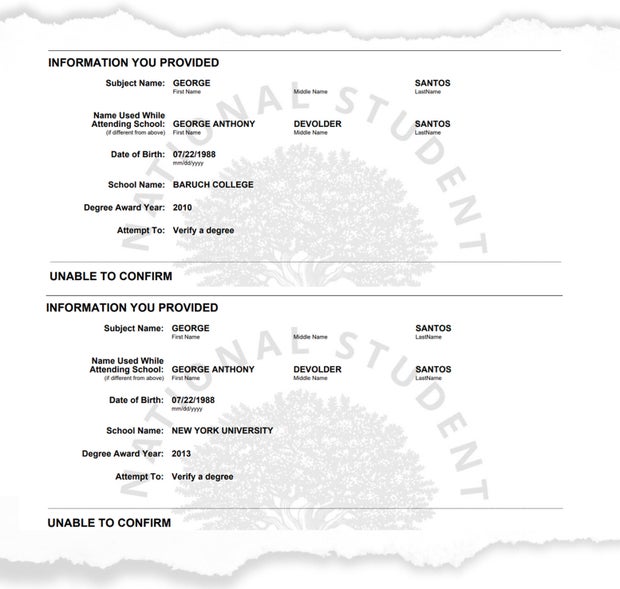 The report took aim at Santos' work as a senior executive with Harbor City Capital, noting the Florida-based firm had been accused by the Securities and Exchange Commission of operating as a Ponzi scheme.
It cites a since-deleted company YouTube video, in which Santos, then known as George Devolder, reportedly said "the leadership in Harbor City is so amazing, and we're well led."
"We have a great executive board, and the allure of that is the sense of unity it brings to the company culture," Santos is quoted as saying in the video.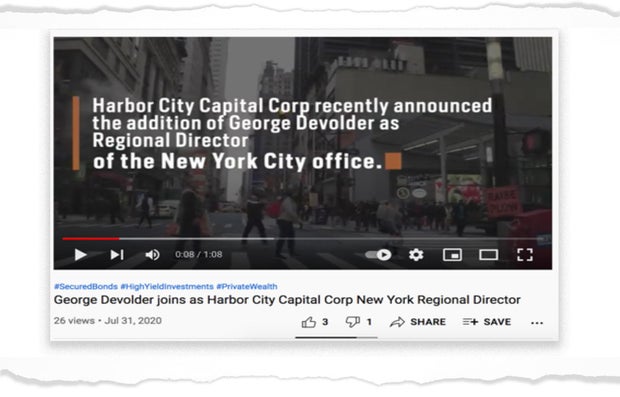 Santos has said he wasn't aware of wrongdoing at the company, which was shut down in 2021 by the SEC.
The report notes that while Santos was working at Harbor City Capital, the Alabama Securities Commission filed a cease-and-desist order against the company and its CEO "for advertising unrealistic returns on investments that did not exist, along with other fraudulent practices."
Prior to Harbor City Capital, Santos worked for a Turkish-based online travel booking company that the report claims is pilloried in online reviews, with customers calling it a "complete scam," the "worst company," and "cheating, lying scum."
Campaign finance discrepancies
Among the most damning revelations in the report are ones that echo the criminal charges he is currently facing. Federal prosecutors allege Santos sought to "mislead the House of Representatives and the public about his financial condition" in disclosures he made to Congress during his 2020 campaign and at the launch of his 2022 bid.
The report alleges similar discrepancies, contrasting his public claims about his success as financial adviser with his 2020 disclosure, which showed an earned income of $55,000.
"Santos says his professional experience is working in finance and helping wealth grow, but his personal financial disclosure filed with the Clerk of the House of Representatives shows no personal investments or assets," the report said.
By 2022, prosecutors say Santos had "overstated his income and assets," claiming he was worth up to $11 million.
Santos has also been charged with fraud and money laundering. Prosecutors allege, beginning in September 2022, Santos spent money donated by political supporters on personal expenses, including designer clothing and car and credit card debt payments.
While the vulnerability report doesn't mention that alleged scheme, it does question how his first campaign was funded.
One of his top donors during the 2020 campaign was Michael Niamonitakis, who that year made the New York City Public Advocate's list of "worst landlords."

The report notes that Niamontakis received $165,000 in COVID-19 Paycheck Protection Program loans, and made $52,500 in total political contributions that year.
Personal life
The report also questioned  "the true circumstances" of Santos' marriage to ex-wife Uadla Vieira, observing that "she may not have been a green card holder nor legal to work in the United States around the time of her marriage to Santos."
Vieira did not return requests for comment. CBS News could not confirm her immigration status during her marriage to Santos or her current status.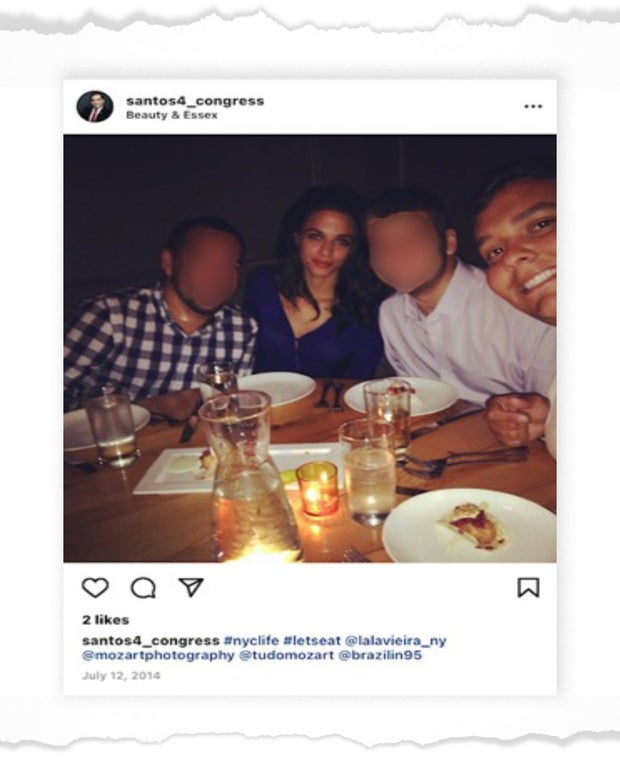 Santos was married to Vieira from 2012 to 2019.
"While married to Uadla Viera, Santos appears to have dated and lived with a man named Pedro Vilarva, an undocumented immigrant from Brazil," the report claims, later adding that at one point Vilarva referred to himself as "Pedro Santos."
Santos publicly identifies as gay.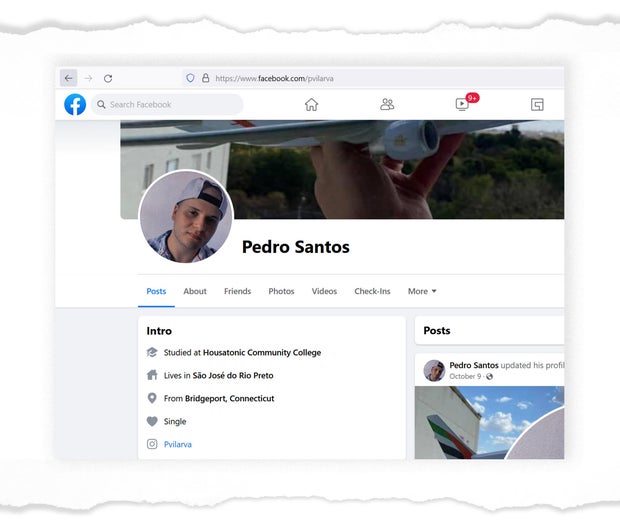 And the report also flags changes to statements about Santos' ancestry that news outlets would later discover were entirely untrue.
On his 2020 campaign website, Santos said his grandparents were Belgian immigrants who "fled the devastation of World War II Europe." Later in 2020, he referred to his grandparents as "Holocaust refugees." In 2021, Santos said his grandparents "survived the Holocaust."
Santos is not Jewish, and records show his grandparents were born in Brazil.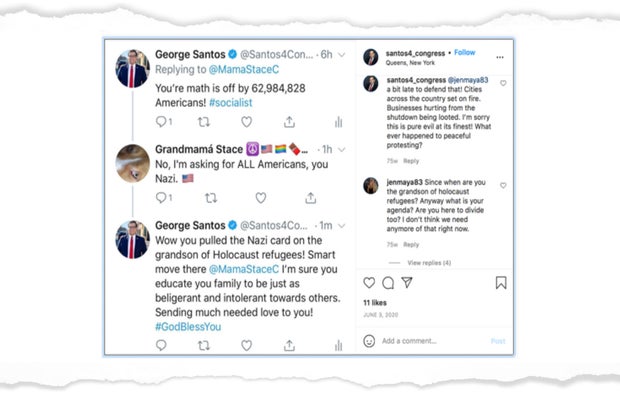 What the report does not include
After Santos was elected, intense media scrutiny uncovered a series of events from Santos' past that became the subject of criminal investigations or allegations of wrongdoing.
Santos confessed in 2010 to committing check fraud in Brazil, where his parents are from — and where he lived for a short time as a young adult. He failed to appear for a 2011 court appointment and the case remained open until March 24 of this year, when authorities in Brazil announced he would enter a guilty plea.
By the time Santos had missed the 2011 court hearing, he had returned to the city of his youth, New York. He claimed in his campaign biography, without substantiation, to have helped rescue more than 2,500 animals at the helm of an organization called Friends of Pets United. The group was neither registered as a nonprofit with the IRS nor a charity with New York State authorities.
Santos was charged with theft by deception in Pennsylvania in November 2017 after allegedly paying a dog breeder with bad checks. A lawyer who was Santos' friend at the time told state police his checkbook had been stolen and the checks were signed by someone impersonating him. The case was dismissed in 2021.
Also in 2017, Santos was questioned by a Seattle detective and Secret Service agents in connection with an investigation into an alleged international ATM-skimming ring. Investigators were led to Santos after a FedEx box with a sender address listing Santos' home in Florida was allegedly found in the car of a Brazilian man caught retrieving a skimming device from an ATM.
Santos has denied wrongdoing in each of the incidents in the U.S.
© 2020 CBS Interactive Inc. All Rights Reserved.
link