Parents and their children don't always get along, though one couple in India is taking their aggrievement to another level.
News agency ANI reported that a couple from Haridwar, an ancient city in North India's Uttarakhand state, has sued their son and his wife, demanding either 2.5 crore each or a grandchild within the next calendar year.
That equates to 5 crore total or about $645,000 in U.S. dollars.
SR Prasad, the father and plaintiff in the lawsuit, told ANI that his son and daughter-in-law were married in 2016. Upon marriage the grandparents immediately wanted a grandchild, even saying they "didn't care about gender."
But six years later, there are no grandchildren to speak of and Prasad said he and his wife have incurred an economic toll.
"I gave my son all my money, got him trained in America," he told ANI. "I don't have any money now. We have taken a loan from bank to build home. We're troubled financially and personally."
AK Srivastava, the couple's lawyer who filed the petition, said "this case portrays the truth of society."
"We invest in our children, make them capable of working in good firms," he said. "Children owe their parents basic financial care."
Birth rates in the U.S. have fallen "with no signs of reversing"
The Carnegie Endowment for International Peace reported in June 2021 that Indian Americans are the second-largest immigrant group in the United States, according to data presented in the 2018 American Community Survey and conducted by the U.S. Census Bureau.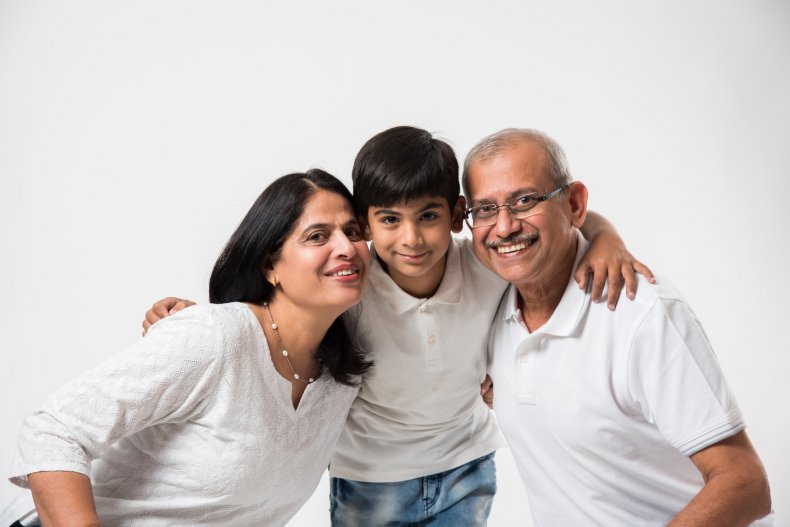 Approximately 4.2 million of them live in the U.S., though approximately only 38 percent of them are citizens. It is estimated that about 2.6 million are citizens, however, including 1.4 million who have been naturalized and another 1.2 million born in the states.
The Migration Policy Institute reported that immigration from India began in the early 19th century, when they settled on the west coast of the U.S. and worked in industries including agriculture, lumber and railroad. Two centuries later, they only trail Mexicans in terms of immigrant populations and remain ahead of immigrants from China and the Philippines.
UNICEF reports that approximately one-fifth of all new baby births in the world come from India, or about 25 million new humans born annually.
Trends are the opposite in the U.S. and have been heading downward for over a decade, according to researchers at the University of Maryland and Wellesley College. They reported that the number of babies born per woman in the U.S. remained steady up until about 2007, or The Great Recession as it's colloquially known due to the economic downturn.
"The birth rate fluctuated within a relatively narrow range, often along with economic conditions, with fewer babies born during lean times and with births recovering when economic growth was stronger," researchers reported in February. "However, the U.S. birth rate has fallen precipitously since the 2007 Great Recession, with no signs of reversing."
In Michigan, for example, the death rate in 2020 exceeded the birth rate for the first time in over a century.
It's unclear what is more alarming domestically: a birth rate decrease of about 20 percent in the U.S. or the fact that the drop cannot be explained by demographic, economic or policy changes. Births have fallen among all races, too, with the largest declines associated with Hispanic women.
Some, like former NFL player Benjamin Watson, said a reversal of domestic birth rates calls for a new perspective.
"We need to view this trend as a part of a broad and deeply concerning cultural drift away from the importance of the family," Watson said.
But even in China, population numbers are also falling dramatically. It was reported last year that the country known for restrictions on the number of children per family had its lowest population total since 1960.
As one Twitter user pondered regarding the lawsuit, "Will their financial problems disappear if they have a grandchild?"

link